After a recent vacay to San Miguel de Allende, I made a rookie mistake (that I never made as a rookie) in the darkroom. I ruined 2 rolls of film by processing them in the wrong chemistry. By the time I had discovered my film faux pas no amount of silver saving CPR could rescue the images. When the blank rolls revealed themselves, I was disappointed, yes, but mostly all I thought was "Cool, now I have more material for my Mardi Gras costume". It also gave me the opportunity to write lines like "silver saving CPR", haha. In truth, I didn't lose that many photos. Most of what I shot was for handtinting purposes, so I had captured the same images in digital. Still I was very careful when I processed the next roll. The camera I brought still had film in it, I wasn't sure what was on it, but I soon discovered images from Zwolle, Louisiana – shot in 2014! Apparently it has been a while since I used that camera…There was only one image of San Miguel on the roll – an image of a Buddha. Somehow, it just made sense.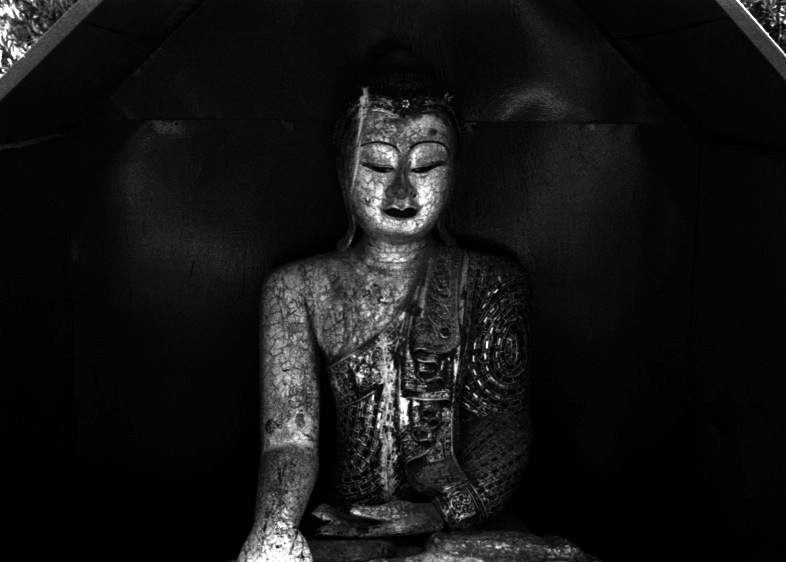 Christine's Terrace
The statue was on the terrace of the apartment I stayed in. The first day I was there, my birthday, I woke up to a shadow of myself on the terrace.
Shadow Selfie
The next day I woke up to a hot air balloon, which I since learned is a fairly common sight:
Morning in San Miguel
Signs of the spiritual were everywhere, not just on terraces, but all along the picturesque landscape of San Miguel.
Sunset Cross * La Parroquia
So naturally I was drawn to sacred and somewhat sacreligious selfies..
San Miguel Selfie * Slightly Sacreligious Selfie
The last day of my trip was spent at the amaaaazing La Gruta hot springs.
La Gruta
(Where I took weird shadow selfies)
Weird Shadow Selfie
The color is intense in San Miguel, hence my desire to handcolor the film photos. (4th roll was the charm)
Streets of San Miguel
There were two images in particular that I really wanted to handcolor – one wasthe shop with the colorful brooms & bags,
Shop with the colorful brooms & bags
the other was of towels at La Gruta. The brooms survived, the towels did not. I have no idea why, with all the intense color in San Miguel, that this was the one image I was sad I did not get on film.
La Gruta Towels
It would have been nice to have those extra two rolls of film to explore some printing options. But unlike my 22, 32, or (who am I kidding..) my 42 year old self, my 44 year old self recognizes my good fourtune of the experience and what I was able to capture. At the end of the day I was chillin with the Buddha on the terrace anyway.
All's good.
Me 'n B
Now I've got a Mardi Gras costume to prepare.
Til next time..
Oh wait - carrots! I also shot some carrots.. :)