Socrates once said that "the unexamined life is not worth living". I wonder if he ever visited Heidelberg. haha. Okay, so the town motto "Dig Deep. Live Well." is probably more inspired by the oil boom of the 1940s rather than by Socrates, but the beauty of being an artist on a photographic philosophical World Tour is – artistic license.The town motto might as well be my own.
Visiting Heidelberg MS was pure joy.
In many ways, it's a small town like all the others – crumbling abandoned buildings with their memories all but fading away against the weathered exteriors.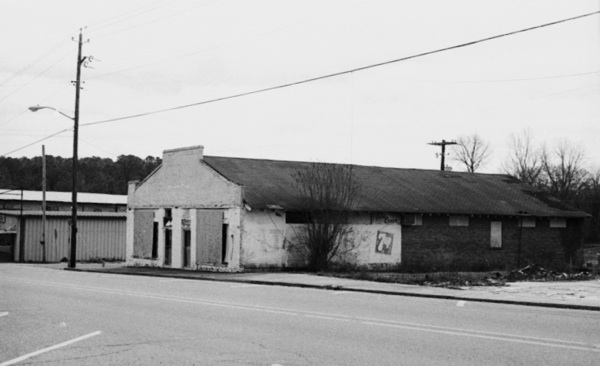 Still, there is an air of potential & signs of life – like this mini-mall –
And really joyous courtyard. The courtyard was like an oasis against the backdrop of the sleepy town.
Perfect space for pondering.
Maybe it's a sign that the town center is on its way back, or maybe, true to the town motto, Heidelberg appreciates the value in taking a deep breath now and then.
One of my favorite things about Heidelberg were the planters located on the street corners. Granted I arrived just after one of the strangest winters the south has seen, but I can appreciate the "live well" sentiment of them, & by now they are probably filled with colorful flowers or will be soon.
Energized from the peaceful surroundings, I began to make my way out of Heidelberg, passing the large learning institution,
before stopping at the Heidelberg OneStop
I met a local who asked why I was taking 150,000 pictures (okay, more like 3) of the Heidelberg Onestop sign. He noticed my trusty film camera and we got to talking about photography. By the end of the conversation, he was inspired to pull his old Minolta 35mm out of the closet and get back to shooting. His enthusiasm just shows that Heidelberg's got it right.
Dig deep. Live well.
all content (c) Natasha Sanchez