Seriously, I always thought that the World Tour was over - give or take a town or two - but that was before I discoveredAloha, Louisiana near the Kitsatchie Forest in North Central Louisiana. True, not an international place, but much like Welsh, Louisiana, I decided its close enough to fit in. I wasn't quite sure how to photograph Aloha, Louisiana, but then I realized I keep a plastic lei around my rearview mirror. It made for some delightful foreground framing.
Aloha, Louisiana
Aloha wasn't hard to find, it's just a few miles north of Bagdad Community on Highway 71.
In Bag(h)dad, I found a lil bit o' cotton..
The reason I was in these parts of Louisiana, was to give a presentation of my World Tour at the Louisiana Studies Conference at NSU in Natchitoches. I had dutifully checked the map before leaving, thus discovering Aloha. En route to Natchitoches on Hwy 71, I stopped to take a few photos of the grounds of a church along the side of the road in Montgomery. The church was very elaborately decorated in folk art fashion, and these signs caught my eye:
What I didnt realize at the time was that the woman who created them, folk artist Juanita Leonard, was going to deliver the Keynote Address at the conference I was attending! ....Synchronicity.....I continued on my way, enjoying the cotton fields of the region..
change of pace
After the conference, I had some time to drop by Bermuda before heading back home.
Bermuda is situated along the Cane River and is home to Oakland Plantation, part of the Cane River Creole National Historical Park.
Oakland Plantation
There are other plantations in the area including Melrose Plantation, where Clementine Hunter lived. I had previously visited this locale in January after photographing Athens, Lisbon, & Vienna.
During that trip, my friend and I stopped off at St. Augustine Church, the first Catholic Church in the US to be built by free people of color. It was established in 1803 by Nicolas Augustin Metoyer and Louis Metoyer, who also founded Melrose Plantation. The Metoyers were the sons of Marie Therese Coincoin, the free woman of color and noted businesswoman of the Cane River region.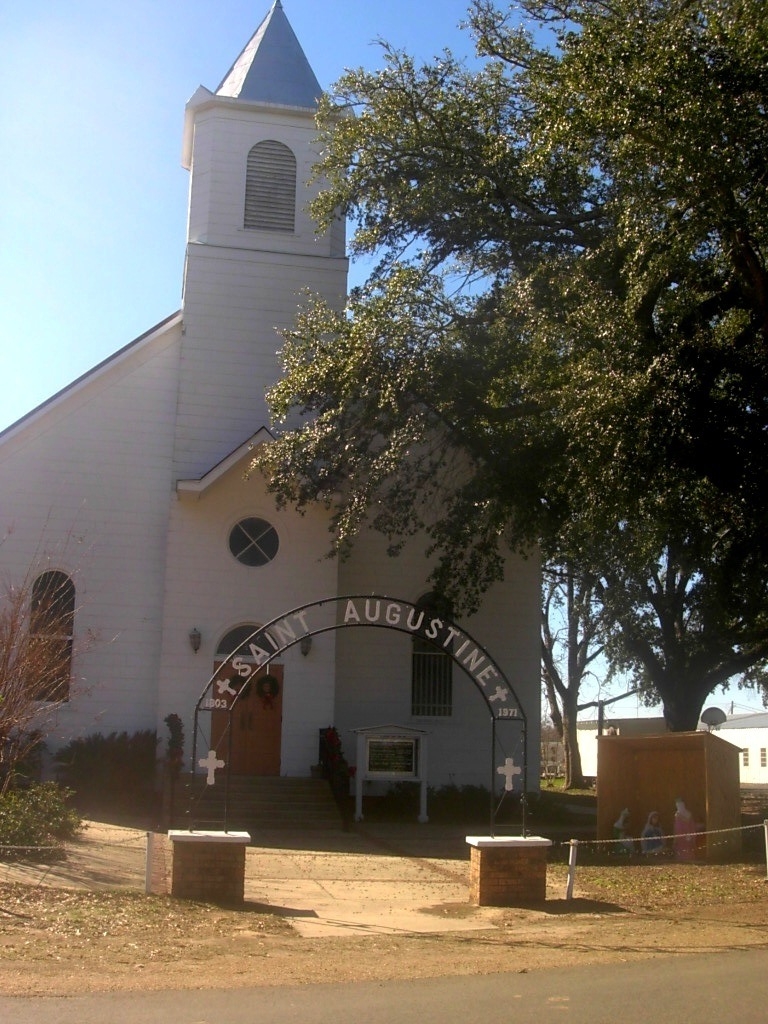 St Augustine Church, Isle Brevelle
Driving through Bermuda this go around, I came across the St. Charles Catholic Church, which I later read was a mission church for St. Augustine.
St. Charles Catholic Church, Bermuda
Still, what caught my eye the most on this trip was....the cotton (and it was right next to the church).
Bermuda Cottonfields
Seeing new places, meeting new faces, sharing my own artwork with others, made this World Tour road trip more than fulfilling. Plus, I think I found my dream house, placed amongst the cottonfields, or as I like to think of them.. terrestrial clouds..
Dreamy Cottonfield
'Twas a nice way to spend the Fall Equinox.
(c) Natasha Sanchez