I'm trying to get better about posting this blog at the beginning of the month, but every beginning has an end and here we are again at the end of the month...with 5-ish hours to spare! 'sall good though b/c I've had a few ideas of what to write about but ultimately what got this month started was…quinoa.
I've been cooking up a quinoa storm lately, casseroles, soups, salads even patties. Unrelated to this recent cooking venture, three years ago I was able to visit the land of the quinoa itself, Peru (did not go there b/c of quinoa, but it is all I ate while there, thank you freakishly high altitude). I also realized I haven't posted many pics from that trip so here are a few.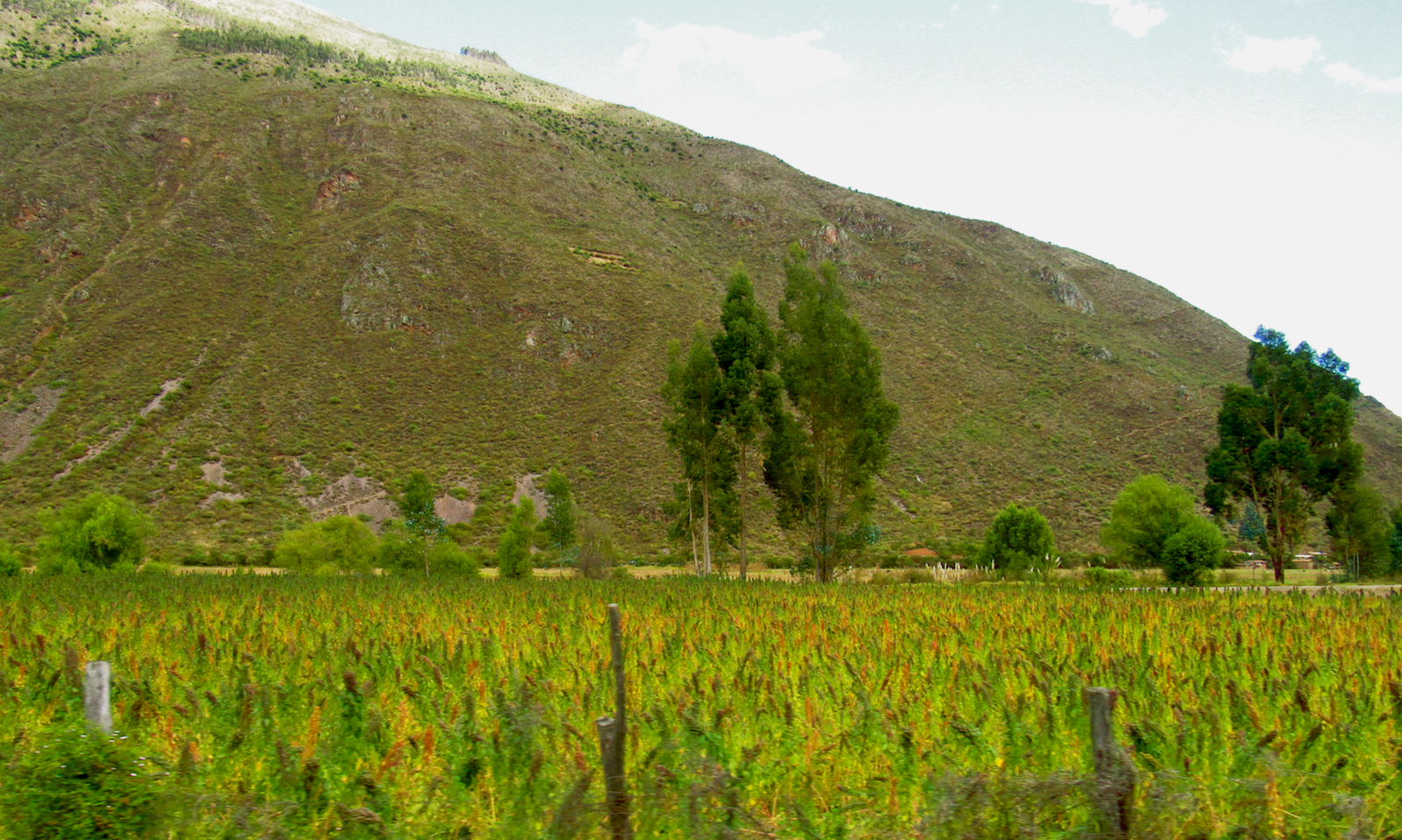 Quinoa Field, Peru
Quinoa (keen-wah…as in "I'm so KEEN on Chickie WAH wah, haha) is known for being a versatile superfood packed with nutrients and proteins. I s'pose my mind has been wandering to one in particular DELICiOUS quinoa soup that I had in Peru and have since tried to replicate it (read: tried) and that is maybe what launched my recent obsession. Or maybe …it was the need to sustain versatility. A full-time artist is a Creator, Creative Director, Business Manager, Accountant, Coordinator, Teacher, the list goes on …..in other words ….in order to Survive, an Artist has to be versatile, no matter where the strengths and weaknesses lie. So adding a versatile grain into my diet and contemplating said versatility rather than working on my taxes seems apropos at this time.
Yet I also think back to Peru itself. There is no way to experience Peru and not include the word "versatile". With a variety of topography and climates, being able to adapt to the 4-seasons-in-one-day is essential and lets not forget that pesky high altitude thing.
So maybe the theme of this blog is not necessarily quinoa, but versatility, adaptability. Yet somehow quinoa, Peru and a sun-god lizard relates. In my photography classes I often repeat the phrase "everything is relative". What works for one shot doesn't necessarily work for the next and the photographer is constantly adapting to the current and ever-changing conditions, scenes and subjects. Throw the business side into the mix and we are adapting all over the place. Quinoa, in all its culinary versatility, Peru with its ever changing landscape and lizards with their righteous ability to adapt, reminds me that everything is connected and that the world is as large or as small as we want it to be, how we choose to perceive it, and adapt to it, is entirely up to us.
Til next time....
** I do intend at some point to post my photos of Peru..stay tuned.. **
all content (c) Natasha Sanchez 2018