I cruised the world in about 10 hours last Tuesday. It was fun. It's been a while since I've hit the road, traveling the globe. It's easy to lose direction when you've been so far removed from something, or busy and preoccupied with other things. With that thought in mind, I launched the 2014 World Tour in a location so prime - Meridian, MS that I'd be sure to stay on course.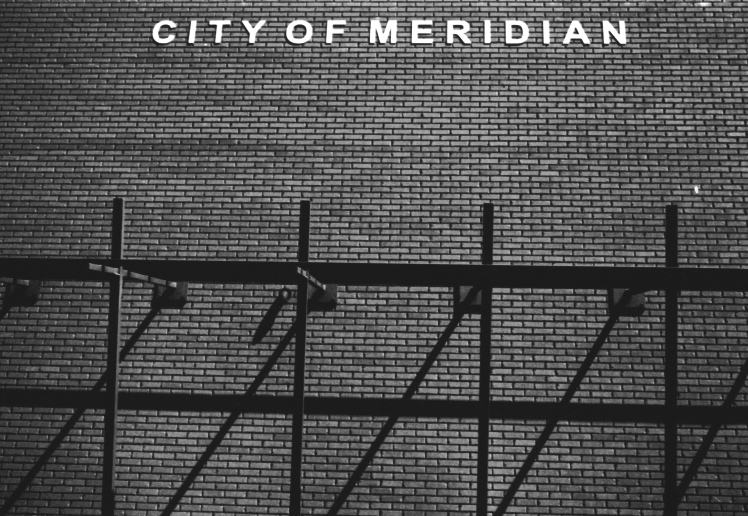 What struck me first about Meridian, MS, was the Color. As I drove past the Meridian Public Library,
I caught sight of this colorful carousel horse: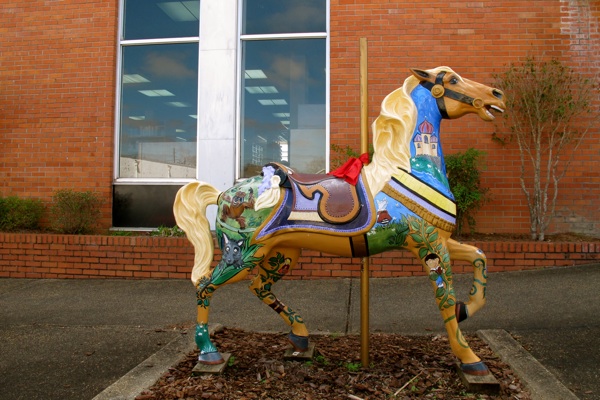 As is my World Touring custom, I don't do much, if any, research on the towns prior to my visit, although I did know a smidge about Meridian. I prefer to see the World with fresh eyes and take the learn-as-I-go approach. My goal remains to simply make it to the town and photograph anything with the town name on it. (If there is anything). Everything else is philosophical lagniappe.
So when I first stumbled upon the Carousel horse, I thought I was making a Great Archeological Discovery. (not really, but it was fun to pretend..). A short walk around Downtown Meridian and I realized the carousel horses were everywhere and that they must be a part of a Public Art Project. Which they are. I didn't know about the Dentzel Carousel, a feature of Meridian since 1909, listed on the National Historical Register in 1987. And I didn't know, but kinda, about Hope Village for Children, the organization that helps foster children in Meridian. I say that I "kinda" know about it because it was started by Sela Ward in 2000 and I sort of (kinda) remember hearing something about that.
The carousel horses were a public art project benefitting Hope's Village for Children. Upon learning about this wonderful organization that helps to create a home for neglected and abused children, I was inspired to make a donation in the spirit of expanding the world for others.
It was no wonder that I was drawn to the vibrancy of the otherwise quiet downtown section of Meridian. The matching flower basket and fire hydrant brighten up the corner in front of jewelry shop – thepink building in the background is the Meridian Museum of Art.
A monkey on a bike adorns the yard of the same jewelry shop.
On my stroll through the quaint and quiet downtown,
I was drawn to the colorful reflections, shapes and patterns of the buildings.
There was a Subway on the ground floor of this center building. I don't know why that makes me chuckle, but it does.
The Art Deco design of the abandoned Threefoot building compelled me to later research this beautiful structure. I learned that it opened in 1930 and that the Threefoots were a German American family who owned and operated a grocery store in downtown Meridian. At 16 stories, it is the tallest building in Meridian. It was listed on the National Register of Historic Places in 1979 and in 2010, the National Trust for Historic Places listed it as one of the 11 Most Endangered Historic Places.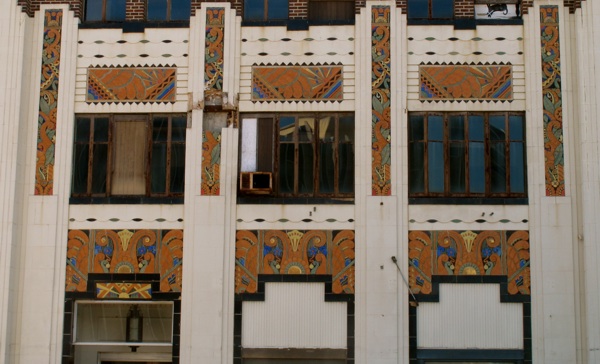 Another prime reason for starting the 2014 World Tour in Meridian was its rich musical heritage. That, and my friend Samone is from there, is the 'smidge' I knew about Meridian prior to my arrival. The country great Jimmie Rodgers hails from Meridian and the festival named in his honor has been held in Meridiansince 1953. (FYI, the Jimmie Rodgers Music Festival will be held this yearMay 15 -17th)
The renovated Riley Center, once known as the Grand Opera House, also on the National Historic Register, is now operated by Mississippi State University and hosts large musical acts. (John Prine will play here April 12th, just FYI)
The Temple Theatre, with its Moorish Revival design, is a prime example of the treasures of the 2014 World Tour.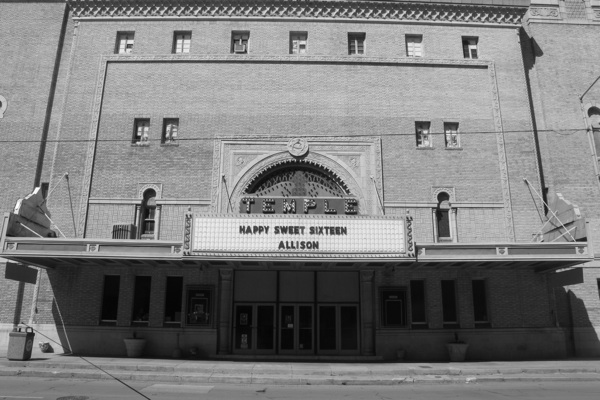 Happy Birthday Allison!
When I began the 2011 World Tour of the State of My World, Louisiana, in Algiers, the underlying mission was that I wanted my world to be larger. After my first World Tour road trip to Transylvania, Delhi and Liverpool, I came back home to New Orleans and went on a weeklong open mic musical world tour – kicking off at the Old Point Bar in Algiers. Since that time my musical world expanded as well as my photographic world. I'm happy to begin the 2014 World Tour in a location that emcompasses all of my art forms - well, i didnt make any lumen prints in Meridian, - but 2 outta 3 (music & photography) ain't bad.
all content (c) Natasha Sanchez