Mission Accomplished. I've been trying to get to Quebec, Louisiana for a year now, and finally, after many twists and turns, I made it. A triumphant moment indeed.
Quebec was significant because it is near the site of one my very first World Tour road trips, Delhi & Transylvania, back in Summer 2011. At the time, though, I was unaware of its existence and unwittingly left the region, not to return for nearly two more years. By last June, however, I was enlightened & ready to visit Quebec. Yet I kept getting sidetracked by other enchanting destinations like China, Bermuda, Alexandria & Turkey – both the Creek (in Louisiana) and the Country (in Asia Minor). Earlier this year, though, the World Tour was back on with visits to Himalaya and Bohemia. Since then, it seems as if every possible glitch that could have happened, happened. The Quebec trip got postponed for health issues, work issues, car issues, weather issues, etc. But finally at the end of May – it was on. Quebec is located in Madison Parish just north of 1-20 near Tallulah (and Delhi…and Transylvania). One notable feature of this area is that the Tensas River National Wildlife Refuge, home to largest population in the state of the Louisiana Black Bear, is located on Quebec Road. But as usual, my main objective was to look for a sign. Ask and ye shall receive..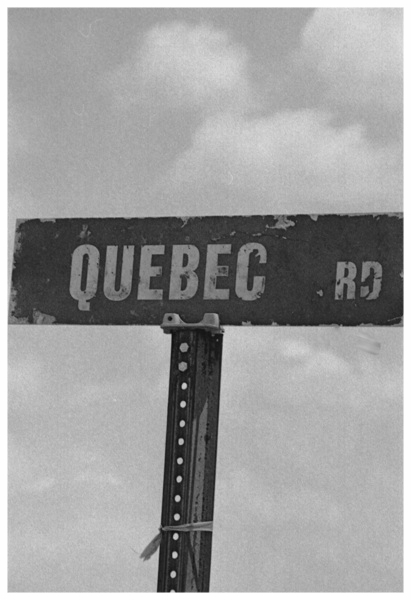 As joyous as it was to discover not one but three signs all within the Mile That Was Quebec, the finding was short-lived and questionable:
Really...? Am I missing something? I could getphilosophical here, but I won't go there. Instead, I'll leave it to the reader to ponder while I show you a picture of another discovery: a mattress in a ditch. There for the pondering? I don't know...moving on..
Sign or no (missing) sign, I was jubilant and inquisitive as I headed South on Hwy 65 towards my next destination: Barcelona.
If Quebec was everything I thought it would be with its sign/missing signs, the drive towards Barcelona was not. For example, I think I found Zonkers' wheat patch along the way. (Last sentence reserved for Doonesbury enthusiasts) :)
And the fun didn't stop there. A little further down the road, I unexpectedly reached - Balmoral. No, not the Queen's Scottish residence, but the Balmoral Mounds, constructed by members of the Coles Creek culture around 1000 A.D. (wikipedia Coles Creek)
Northeast Louisiana is especially rich in mound sites of early settlers. The World Tour has allowed me to visit and/or view the Balmoral Mounds, the Transylvania Mounds, the Filhiol Mounds, also part of the Coles Creek culture, and Poverty Point. 'Tis but a small dent in Louisiana's Ancient Mound Trail. I'm looking forward to visiting more.
Finally, it was time to turn off Hwy 65 andin search of Barcelona. I was correct in assuming it might be hard to find. It's one of those towns that exists on a map, and that's about it. Still, exploring is always the best part.
No World Tour blog would be complete without a photo of a church, and the road to Barcelona did not disappoint.
Choctaw Baptist Church, organized 1873
While not expecting much when I arrived in Barcelona, a populated place located in Tensas Parish, it didsurprise me .. (there was even a picture of the same site on Google Maps to prove I was in fact at my intended destination..haaa..)
Barcelona, Louisiana
I have to admit - this four month hiatus of World Touring has been the longest since I started the tour two years ago and I wasn't happy about it. I felt so driven to reach Quebec, that I wasn't sure how this journey would go. Maybe the sign that I was missing was just thatI had forgotten the tour was more about ideals than physical locations. After all, the whole point of the World Tour is that the World is only as Large or as Small as you want it to be. When I embarked on this latest excursion, I saw more of the World than I ever could have imagined - all in just a days drive.
Merci for reading...Au revior.. til next time,
Natasha
(c) Natasha Sanchez 2013